The Tuesday New Orleans Music Show
Playlists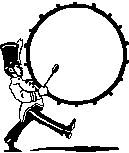 ---
Buy New Orleans Music at the Jazz Roots Music Store
The Tuesday New Orleans Music Show was produced and hosted by Tom Morgan every Tuesday from 11 am until 2 PM on WWOZ-FM - 90.7 in New Orleans, Louisiana. This is one of five such shows on WWOZ which focus on the music of Louisiana and in particular, New Orleans.
On this show you heard gospel, jazz, rhythm and blues, brass bands, blues, doo-wop, funk and soul. There were also theme shows such as the annual Food show which ushered in the holiday season.
If early jazz is your thing, then check out my other show Jazz Roots.
Most of the music used on the show can be purchased at the Louisiana Music Factory. A wonderful New Orleans record store which specializes in the region's musical offerings.

Get fast success in actualtests ccie and Pass4sure ccie exam questions by using our latest exam Testking scjp. We also offer up-to-date certkiller gre test and answers for your prep of certkiller PMI-001.